Human Capital and Training
Aim: To develop, execute, and measure best-in-class learning and performance programs that maximize the talent of employees and multiply the impact of our clients' work.
The pursuit of knowledge and continuous performance improvement are integral parts of every organization's success. But for today's workforce, it can be challenging to keep pace with the latest learning trends and educational technologies. How can federal agencies ensure that their learning and development investments are both effective and compliant with strict accreditation standards and processes? Organizations must have access to the right resources, curricula, training, and coaching to meet the varied needs of all stakeholders, from their leadership teams to their end users and customers.
Atlas Research combines industry best practices with innovative thinking and technology to provide our clients with memorable learning experiences and measurable outcomes. Our strategic learning and performance plans are grounded in extensive research and result in improved job performance and more effective leadership.
Our instructional designers, strategists, and analysts are experts in performance measurement, performance improvement, Continuous Process Improvement (CPI), and program evaluation. Our team brings decades of experience in creating ground-breaking workforce solutions for our clients. We have created virtual graduate programs for renowned universities, developed online multimedia classes for government leaders, and managed IT programs for an online learning system that's accessed by more than 330,000 government employees. We partner with our clients to build programs that improve efficiency and deliver measurable, high-impact results.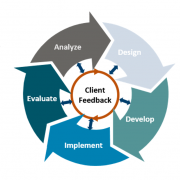 When recommending and delivering such support and consulting services, Atlas uses the ADDIE Model – a proven process that is the industry standard of Instructional Systems Design (ISD). ADDIE phases include Analysis, Design, Development, Implementation, and Evaluation, and provide a dynamic, flexible guideline for building effective training and performance support interventions, including expert consultation and coaching/mentoring. The model allows for extensive client and stakeholder collaboration and rapid material prototyping, and facilitates product improvements through gathering/incorporating feedback on their effectiveness.
Our expertise includes:
Training and curriculum design and development
Training delivery and follow-up support
Education and training
Needs and gap analysis
Learning and performance
Human capital strategy
Development and performance improvement
Talent and capability building
Workforce analysis and planning
Coaching and mentoring
Learning communities
Communities of practice
Online learning and webinars
Performance support strategy
Executive and leadership training
Competency modeling
Human-centered design
Contact
Alice Muellerweiss
Director, Human Capital and Training
Inside Atlas: Atlas' commitment to learning and development begins with our own team. We encourage our employees to stay curious, to ask questions and look for answers in unexpected places. We've created a series of internal training and professional development programs that ensure that our employees never stop learning