Alice Muellerweiss, MS
Director, Human Capital and Training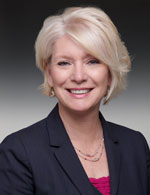 Alice Muellerweiss is the Director of Human Capital and Training at Atlas Research, where she leads human capital strategy, training and development, and organizational performance improvement services. She is a combat Veteran who began her career more than 30 years ago as an Army private, culminating her federal career as a senior executive. 
Ms. Muellerweiss has led several human capital transformational efforts in her career.  As the Dean of the Department of Veterans Affairs (VA) Learning University, she led the development of VA's first corporate learning university to provide a unified, full service, competency-based learning organization for its more than 300,000 employees. Her organization received multiple awards, including Harvard University's Kennedy School "Bright Idea" Award in 2012 for positively impacting employment in the midst of a challenging economic climate. 
As the VA Associate Deputy Assistant Secretary for IT Human Resources Career Development, she led its human capital transformation to build and sustain a high performing workforce. Developing a plan and acquiring the funding enabled more than 7,000 employees. This effort contributed to operational improvements for VA's major IT systems, saving nearly $150 million in cost avoidance from improved project management and successful achievement of 89 percent of IT project milestones.   
Ms. Muellerweiss was selected as the Secretary of the Army's Task Force Chief of Staff for the Review of Education, Training, and Assignments for Leaders. In that role she facilitated integrated cohort meetings (Officers, Noncommissioned Officers, and Civilians), conducted gap analyses, and developed integrated requirements. This effort led to the Secretary of the Army's approval to integrate $1.6 billion into the planning budget for human capital management and training.
Ms. Muellerweiss holds a Master's degree in Strategic Studies from the U.S. Army War College in Carlisle, Penn., a Master's degree in Human Relations from the University of Oklahoma, and a Bachelor's degree in Management from the University of Maryland, University College. 
She was awarded a lifetime Platinum Learning Professional Certification from the eLearning Institute in 2012 for her contributions in the field of learning and was named a 2012 finalist for the prestigious Samuel J. Heyman Service to America Medal for Management Excellence.